Girls
Transform
Society

Investing in girls' education will change the world.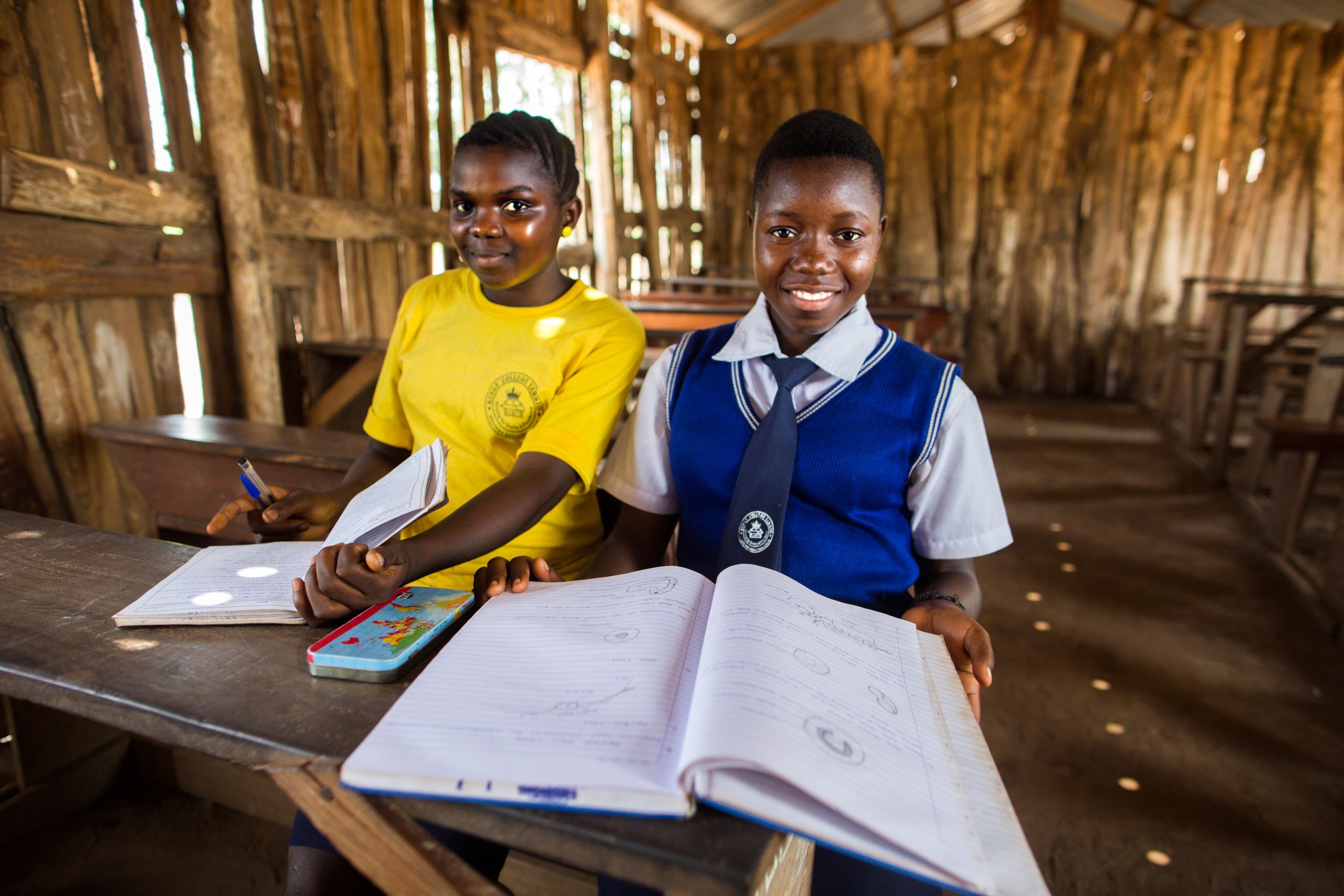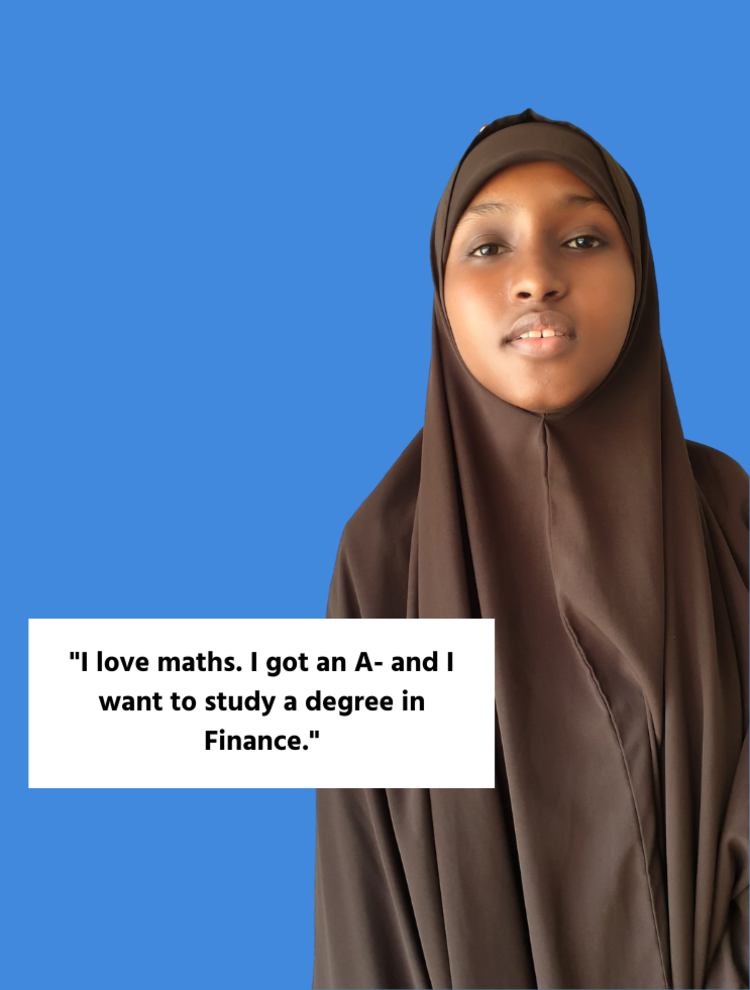 Investing in girls' education will change the world.
It's a fact. When girls are educated, everyone benefits. Educated girls mean stronger economies, fairer societies and more resilient communities. 
When girls receive an education, they are less likely to marry young. They are better able to make decisions for themselves and their families, and take part more meaningfully in conversations that affect them. 
Educating girls leads to more peaceful and equitable societies, where boys, girls, men and women can reach their true potential. 
Around the world, over 130 million girls are out of school. Conflict drastically reduces opportunities for girls to continue their education. Girls in conflict-affected areas are 90% more likely to be out of secondary school than those living in areas without violence. 
In eastern Africa, girls living in refugee camps and settlements, and those living in communities affected by conflict and marginalisation, are most vulnerable. Factors such as lack of adequately trained teachers, over-crowded classrooms and limited access to services result in poor quality education for many. Lack of electricity, internet and even basic necessities like food, water and sanitation all disproportionately and negatively impact girls.  
Refugees are people like anybody in the world. They are people who flee their countries because of different reasons such as war, famine, and internal and external conflict, searching for resolutions in other countries or continents. Life for a refugee girl is not good because she faces a lot of problems due to her state of being a refugee. Everyone takes advantage of refugee girls. A refugee girl passes through many challenges." 
Girls in communities who have experienced conflict and marginalisation need us all to work together to help them access quality education that will benefit themselves and their families, communities, and wider society. 
Specialists in Girls' Education
Windle International has decades of experience providing education for refugee and conflict affected communities in eastern Africa

In 2019, Windle International supported 500,000 girls to access and continue education.
We have a long history of working with girls in refugee communities and those affected by conflict in Kenya, Uganda, Sudan, South Sudan and, most recently, Somalia.
We provide truly inclusive, quality education at every stage, from early childhood development centres, to postgraduate education, to vocational training.
Our approach works because of our unique and trusted position within the communities we work with. Our staff and teachers are from those communities, they live and work there, and are part of life in many of the places in which we work. Our interventions increase community support for educating girls, improve teacher to student ratios in classrooms, provide extra teaching and learning materials and offer remedial classes to help girls catch up when needed.
In 2019 our programmes in Kenya, Uganda, Sudan and South Sudan resulted in: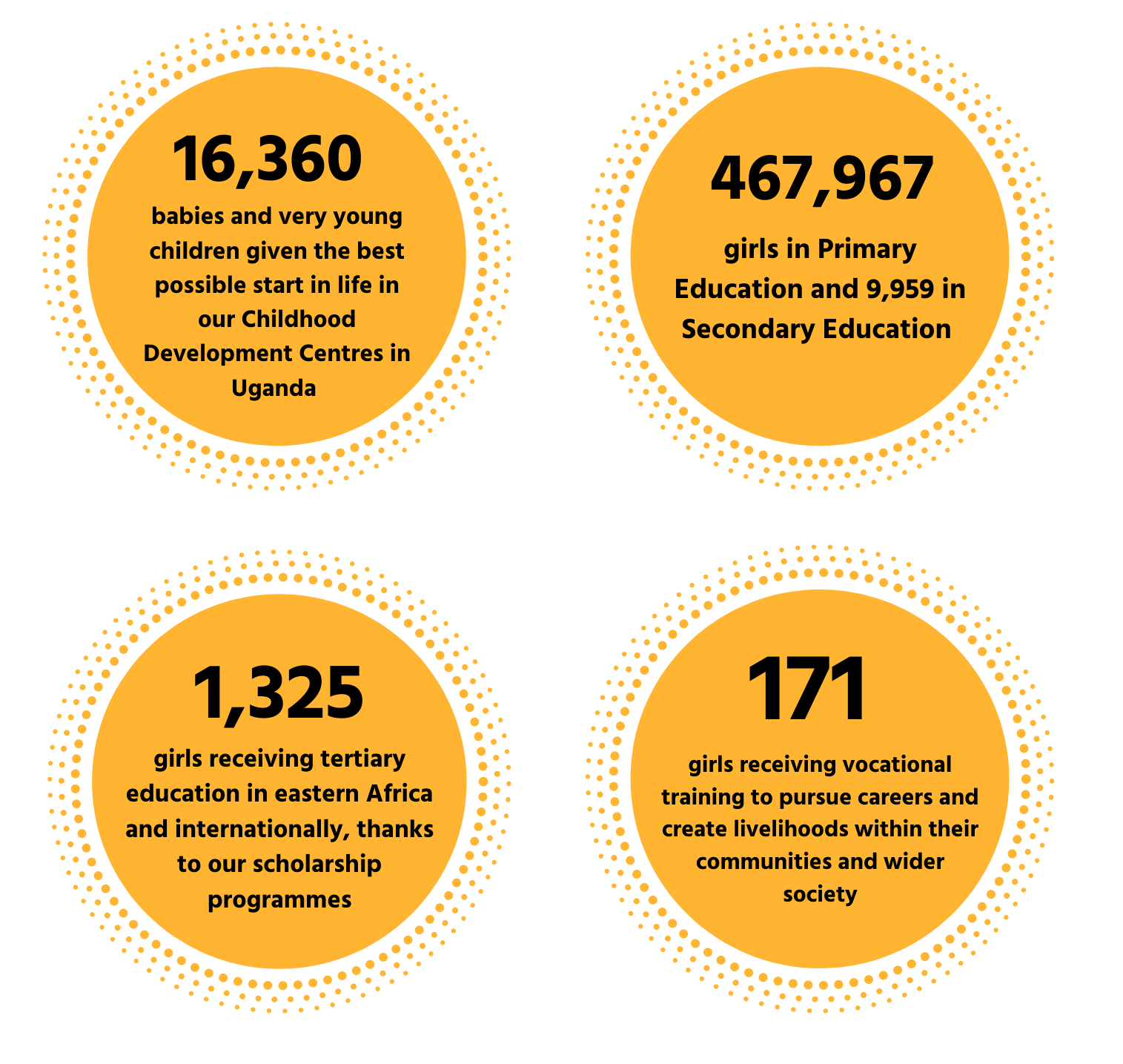 Our experience is that whilst there is a huge commitment from stakeholders to deliver quality education, issues such as overcrowding, lack of resources and, crucially, a lack of trained teachers are very real issues that disproportionately affect girls and desperately need addressing.
Scroll down for how we've been working in partnership to address some of these issues.
How we're helping
Educating and inspiring the next generation of girls
Creating Strong Foundations
---
Early Childhood Development
Early Childhood Development is the foundation on which children build their educational futures. The early years of children's lives are when the brain grows more rapidly than at any other time in their lives: by age 5, 90% of their brain development has already taken place.  
Alongside our partners including Save the Children and World Vision, we manage 100 ECD centres in Uganda. In 2019, we gave 16,360 girls the skills they need to effectively transition to primary education.  Girls make up over 50% of the total number of children in our centres.
We offer inclusive education. In refugee settlements in Uganda, refugees and locals often live side-by-side, which means that the wider community also benefit from our interventions.
2019 Early Childhood Development at a glance:
Centres: 100 
Caregivers: 339 
Learners: 32,445 
Latrine stances constructed: 10 
Temporary kitchens constructed: 13
Source: Windle International Uganda
---
Primary Education
Around the world, 132 million girls are out of school, including 34.3 million of primary school age. In countries affected by conflict, girls are more than twice as likely to be out of school than girls living in non-affected countries.
In Uganda we have a long-running partnership with the United Nations High Commissioner for Refugees (UNHCR) and the Office of the Prime Minister (OPM), to provide children in refugee and host communities quality primary education in 12 refugee settlements. This includes making sure there are appropriate teaching and learning materials available, as well as constructing classrooms, teacher accommodation, and latrines.
In 2019, Windle International Uganda managed 157 primary schools, supporting 106,098 girls from the refugee and local communities.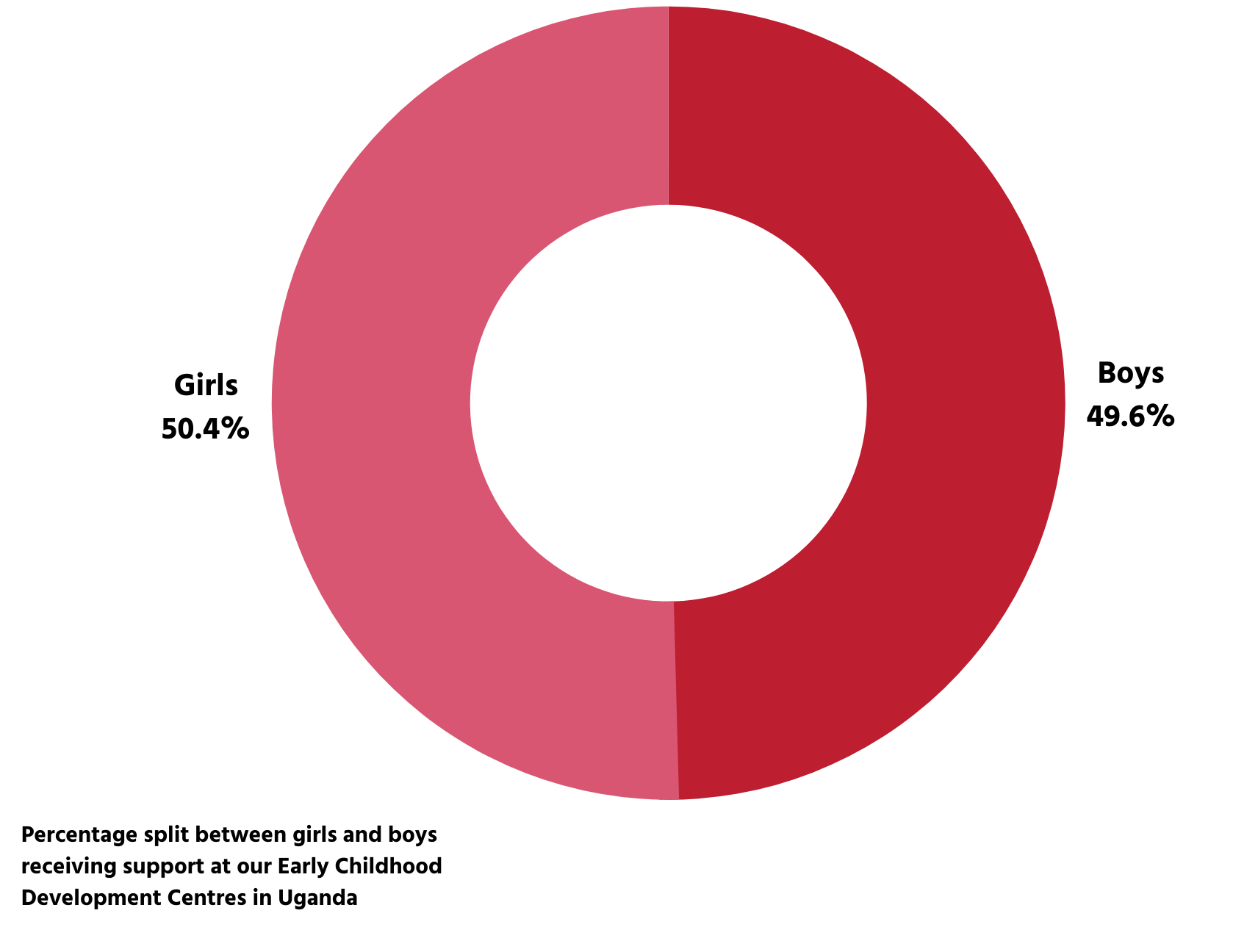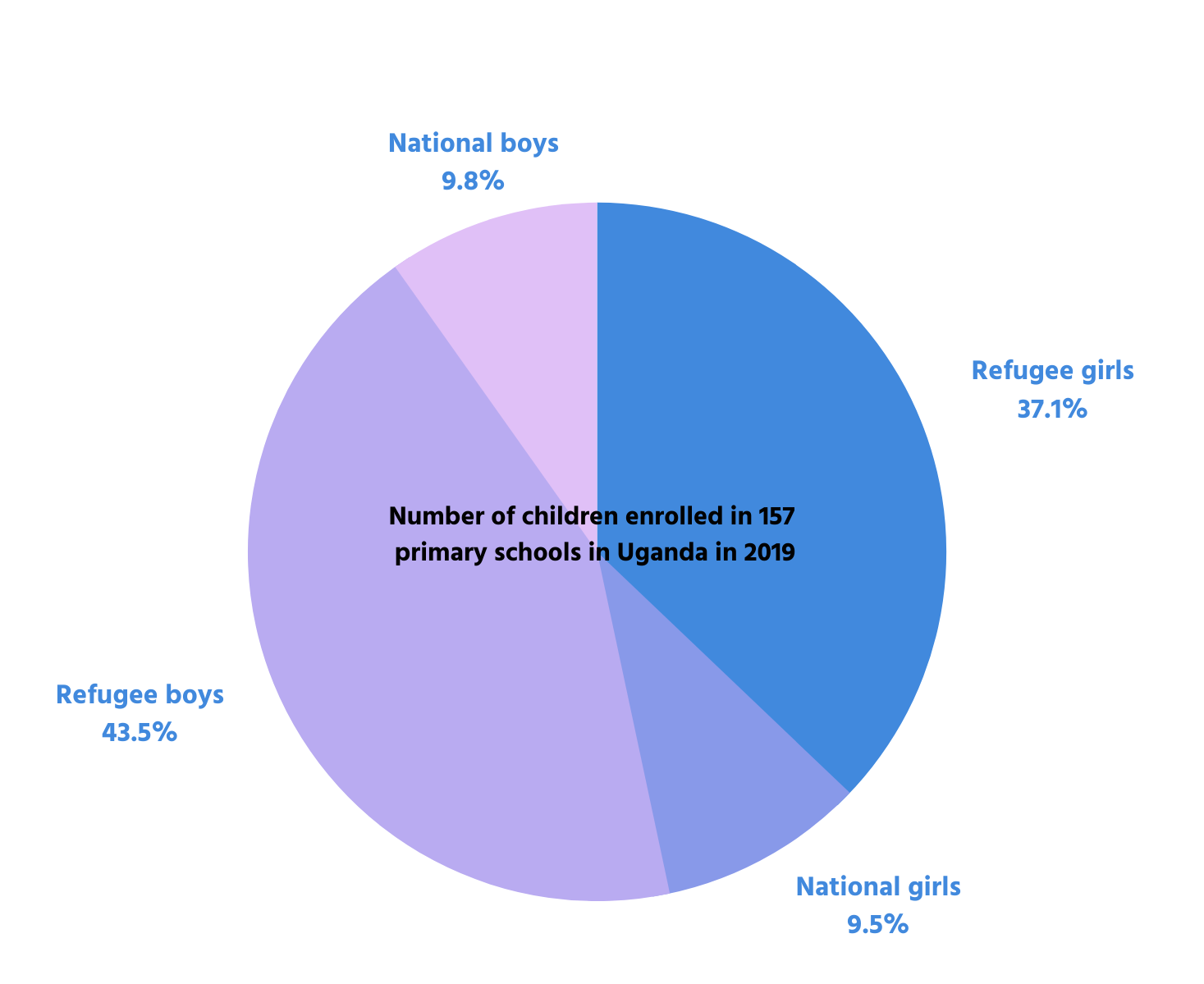 Spotlight Project: Girls Education in South Sudan (GESS)
---
Windle Trust International is a partner in the Girls Education in South Sudan programme, an inclusive programme that aims to transform the lives of a generation of children in South Sudan – especially girls and those in the margins of society– through education. Funded by £70 million (GBP) of UK aid from the UK Government and $15 million (CAD) from the Government of Canada through Global Affairs Canada, it is managed by a consortium led by Cambridge Education/Mott MacDonald, including BBC Media Action, Montrose, Leonard Cheshire and Windle Trust International. WTI plays a key role in the Quality Education component, delivering the Accelerated Secondary Education Programme (ASEP), Intensive English Course (IEC) and primary Accelerated Learning Programme (ALP).  In 2020 Windle supported 453 primary schools in Unity State and 425 primary schools in Lakes States which also included the distribution of cash transfers and dignity kits - a crucial element to helping girls feel safe and able to attend school.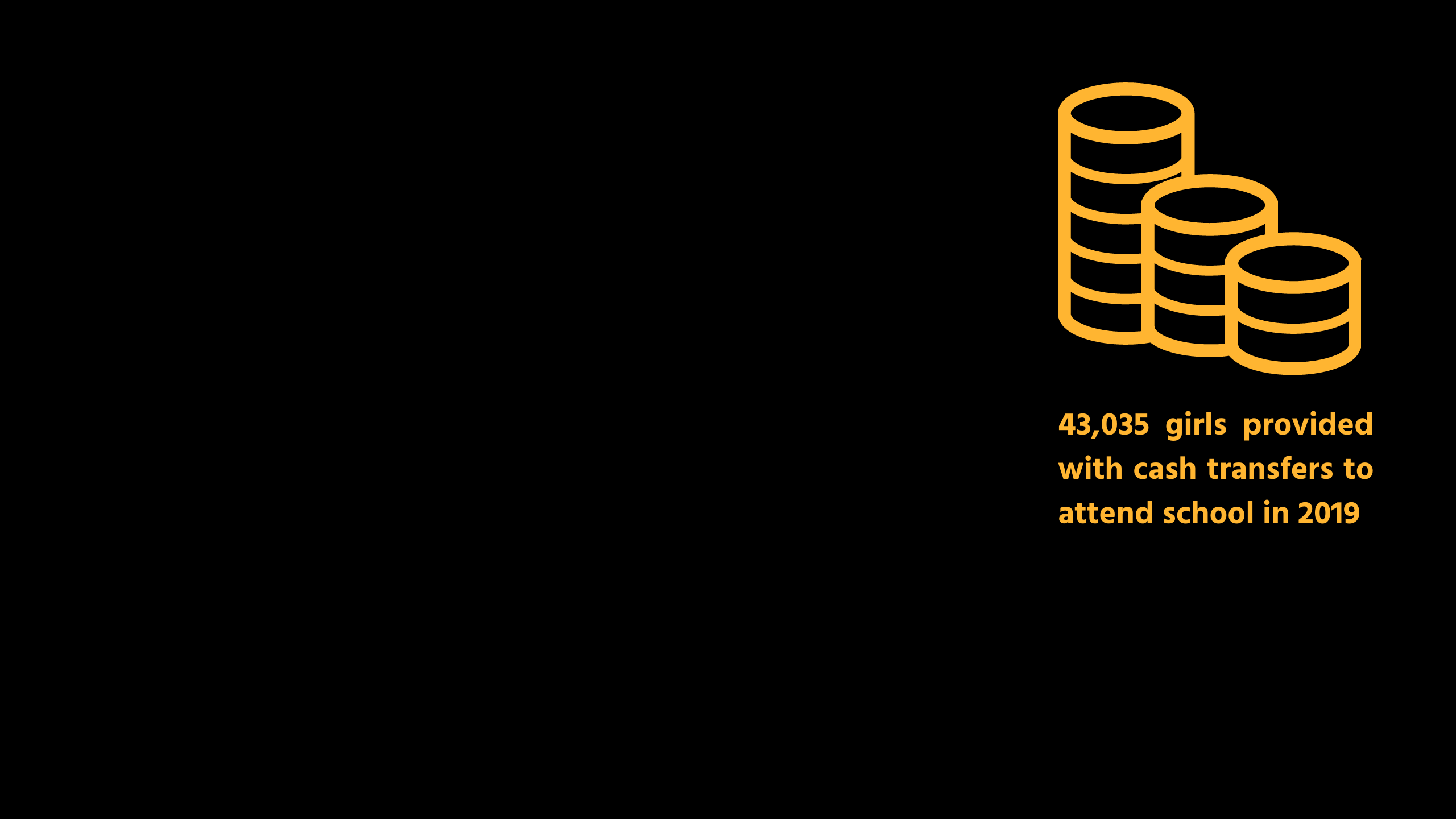 Secondary Education
In Kenya, Windle International Kenya implements the Secondary Education Programme on behalf of UNHCR in seven schools in Dadaab Refugee Camp, and six schools in Kakuma, reaching over 15,000 children in total. This means we ensure there are qualified and well-trained teachers and efficient school administration, as well as appropriate learning materials and facilities. We also run a number of projects that focus on strengthening extra-curricular activities such as sports which enhance community cohesion, increasing participation of the local communities in secondary education, provide guidance and counselling and specifically target girls in increasing their access to secondary education.  
In Uganda, where Windle International Uganda manages 13 secondary schools, exam results over the past three years show continuous yearly improvement in performance across all learners including girls, from 81% in 2017 to 90% pass rate in 2019. Part of ensuring girls are able to attend and stay in school is ensuring there are safe and appropriate environments for them to be in. In 2019 WIU was able to construct a new girls' dormitory, providing a secure place to stay that increased the number of girls able to attend school regularly, as many had to walk kilometres every day to and from their homes. 
The Kenya Equity in Education Project: cash transfers for education in prolonged refugee contexts
Conditional Cash Transfers, or CCTs, offset the financial barriers to attending school and encourage regular attendance. They give girls and their families more agency to decide how they need to spend money within the household to ensure that all children, especially girls, get a chance to attend school. 
Windle International Kenya delivers CCTs in partnership with the World University Service of Canada (WUSC), as part of the Kenya Equity in Education Project (KEEP), which is funded by the Girls' Education Challenge, an initiative of the Government of the United Kingdom.
KEEP aims to create the conditions for learning that will allow approximately 20,000 marginalized girls from Kakuma and Dadaab refugee camps, and the surrounding host communities, to stay in school for as long as possible.  The main goal being that they attain at least functional literacy and numeracy, be safe and supported at school and at home, and make successful transitions at critical life stages.
The CCTs' aim to directly reduce economic barriers to education and to increase attendance, retention in school, and transition to the next grade level for vulnerable girls.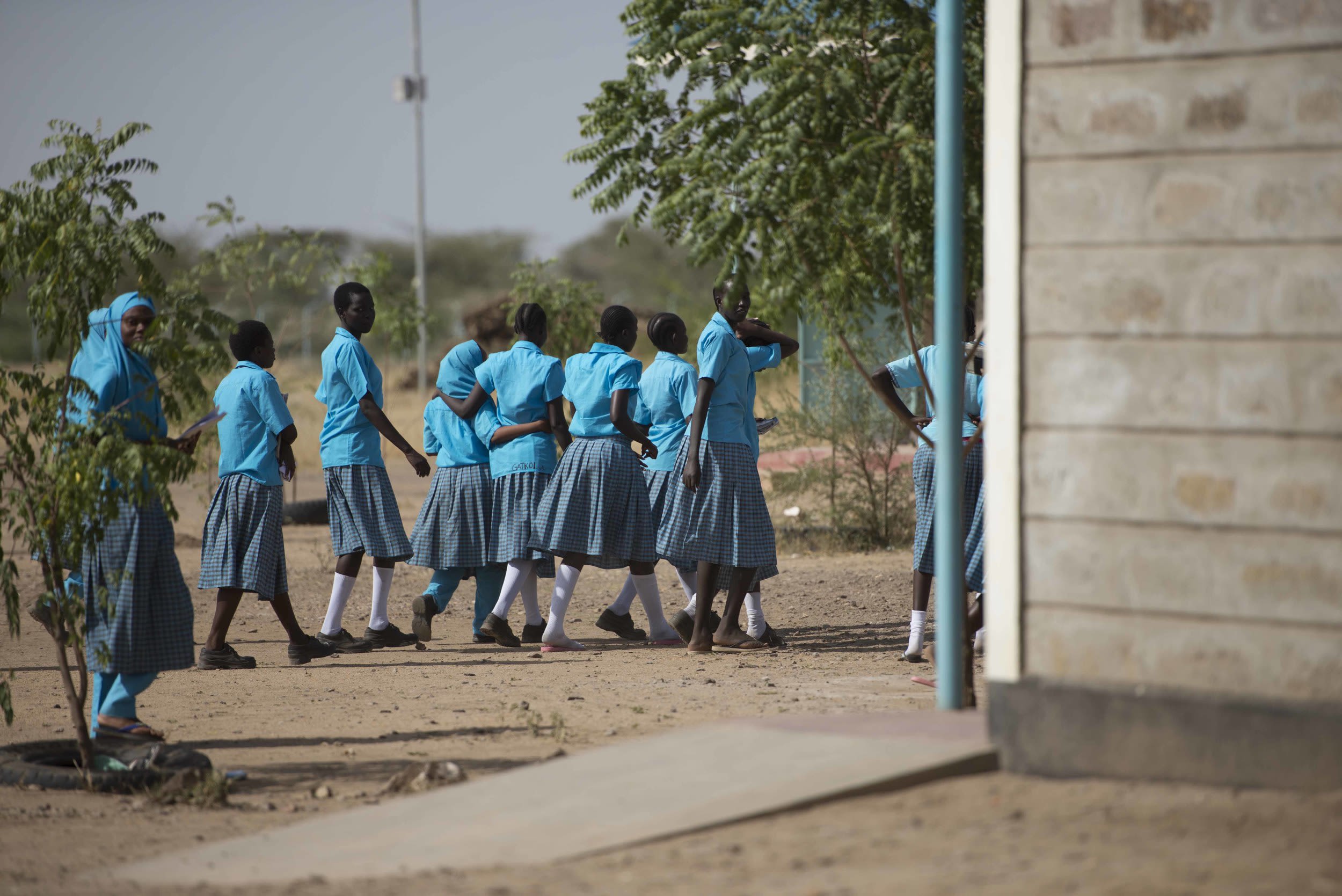 Since 2017, KEEP has resulted in: 
Over 2,500 girls and their families will receive access to financial assistance to reduce economic barriers to education
Improved access to financial institutions for refugee households (90% of recipients are women)
Enhanced participation in household decision-making for vulnerable refugee and host community girls. They are increasingly able to negotiate within the family for resources and support for their education-related needs.
Windle and WUSC will continue to implement CCTs through the Kenya Equity in Education Project until it ends in 2023.
---
Giving girls the support they need to excel
A crucial part of increasing access to education for girls from refugee and conflict-affected communities is making sure they have the support they need to excel. Having a lived experience of conflict means that many girls are traumatized. Often they live their daily lives at risk of gender-based issues like child marriage and sexual violence. Across all of our programmes we embed support within our education structures and run bespoke counselling projects.  
For example, Windle Trust International been providing counselling sessions for girls in South Sudan for the past 8 years using specially trained mentors who are well-respected women in the communities. Our mentors undertake a range of activities to support girls in both primary and secondary schools. Over the past three years, almost 200,000 girls have been supported (43035, 101,263 and 54,781 in 2019, 2018 and 2017 respectively).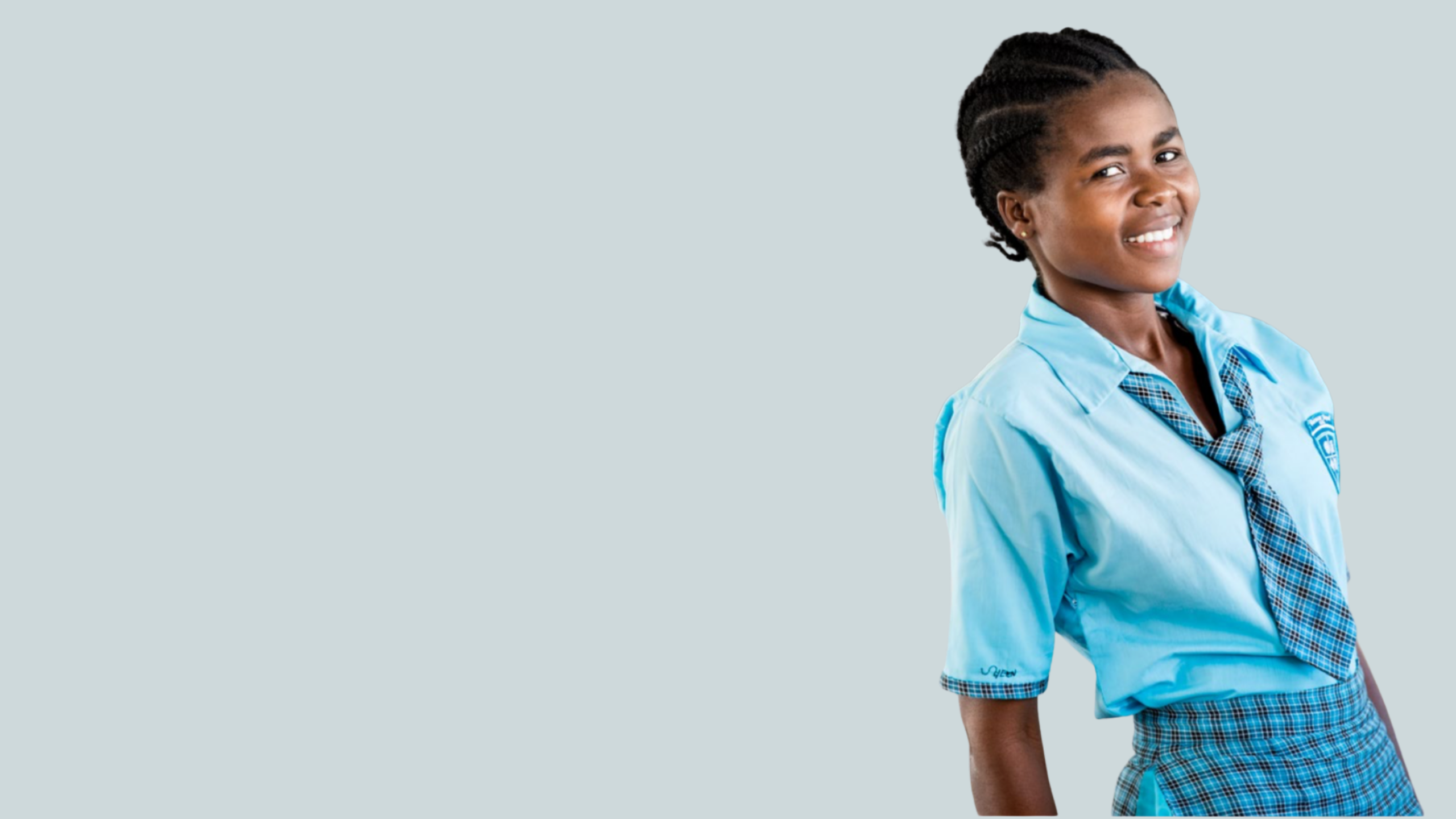 Aiming Higher in Tertiary Education  
---
Finding ways to help eligible students to continue to pursue their education is a core part of our activity. Whether it's professional diplomas in sought-after sectors like nursing and engineering, or postgraduate study in international development, Windle works with partners and funders to offer students from across eastern Africa the opportunity to fulfil their potential.   
We do this by managing scholarship programmes, which include a range of support from fees and accommodation to daily stipends, through to offering a safe place for women to live and study whilst at university.   
Windle has successfully managed the DAFI program on behalf of UNHCR in Kenya, Sudan and Uganda for close to two decades, and provides oversight for an additional portfolio of 9 different tertiary scholarship awards.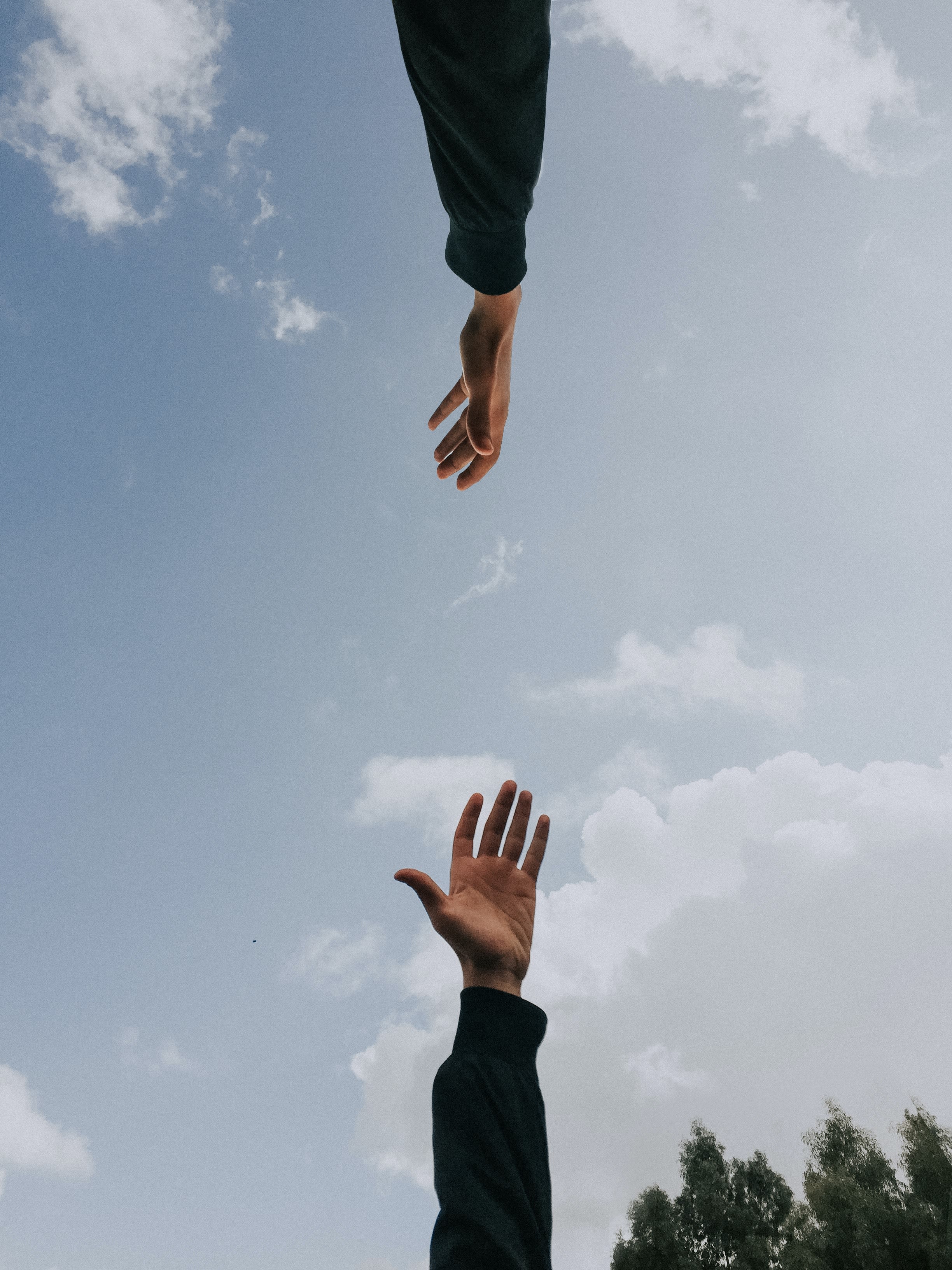 Achieving peace and development through education, training, and providing safe learning environments for women 
---
Since 1998 Windle member Windle Trust International has supported a hostels project for female students in partnership with the Gordon Memorial College Trust Fund and Ahfad University for Women in Khartoum, Sudan.  
Each year accommodation is provided in four hostels in Omdurman, Khartoum, for around 80 women, so that they can live close to Ahfad University for Women in an environment suitable for study. Many of them have no family support in Khartoum or would otherwise have to live in settlements without electricity or running water on the outskirts of the city, up to two hours' journey away.
The project enables a significant number of women to complete their degrees who might otherwise be forced to drop out.
The project supports the four hostels through contributing towards the rent and utilities, providing equipment and furniture, relevant training and supporting the student hostels committee to manage the hostels. Priority is given to students whose families have left Khartoum when selecting residents. Temporary residents are accommodated during exam periods.
Previous evaluations have shown that the hostel environment is helping students to become self-reliant and has enhanced understanding between students from different cultural backgrounds. This is particularly relevant in the context of the current conflict in South Sudan.
"The social life and educational environment at the hostel has helped me to become self-reliant in taking my own decisions and caring about myself."
Borderless Higher Education for Refugees
The BHER Project was the brainchild of Windle International's CEO, Dr Marangu Njogu who brought together Canadian and Kenyan universities alongside Windle International Kenya to provide quality higher education to refugees and locals and contribute to the conditions for justice, sustainability, and peace in Kenya, Somalia, and the surrounding region.  
BHER has been successfully addressing the challenge of helping refugee and local teachers, as well as those interested in community education, to earn internationally recognized credentials that allow them to put into practice their earned knowledge and skills in Dadaab, in Somalia, or any other country they relocate to. 
BHER provides gender equitable teacher training programs in situ to working, untrained teachers who are already contributing back to the community, increasing and improving education in the camps overall.  
These teachers study at the university level, paying no tuition, through a scaffolded program structure where they begin with teacher training certificates and diplomas, then transition into degrees. BHER programming has been developed with the unique challenges of refugee camps in mind. As such, to provide teacher training and higher education, we are creating and delivering on-site and on-line courses through the coordination of our partners, building on work already being done. 
Courses are accredited, meet international standards, and are offered through the joint efforts of our partner organizations. All offerings are "stackable", allowing students to earn a certificates or diplomas at each level of study, incrementally building towards earning a degree. 
In 2020, 52 women, predominantly Somali refugees but also Kenyan women from the local community, were being supported by the BHER project. They were pursuing a range of qualifications including degrees, diplomas, certificates and Master's in subjects such as Primary Teacher Education, Elementary Studies and Bachelor of Arts in Education.  
Windle has over three decades of experience managing a number of other tertiary-level scholarships, most notably: The World University Service Student Refugee programme (SRP); the Windle Trust International post-graduate scholarship programme to universities in the UK; the DD PURI Foundation scholarship for technical mid-level college training; Tertiary Scholarships Award, among others. All of these strive to award gender-equitable opportunities for those eligible for further study.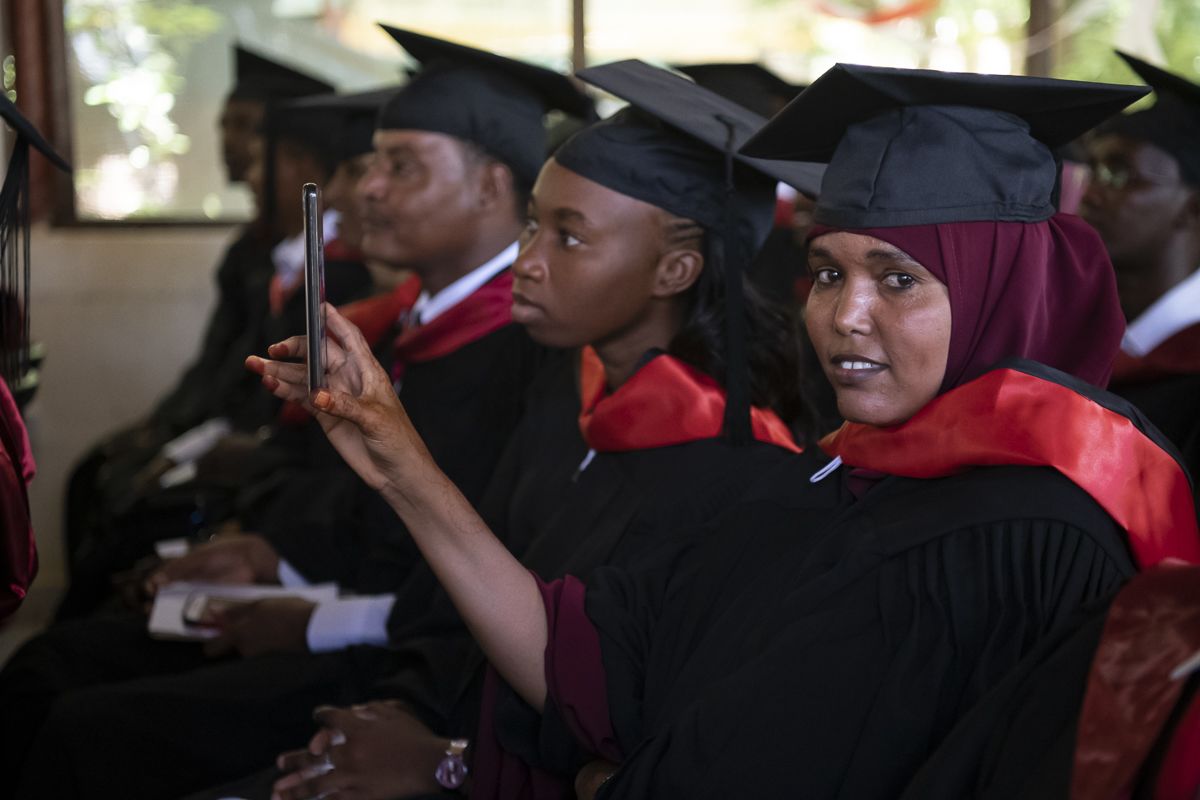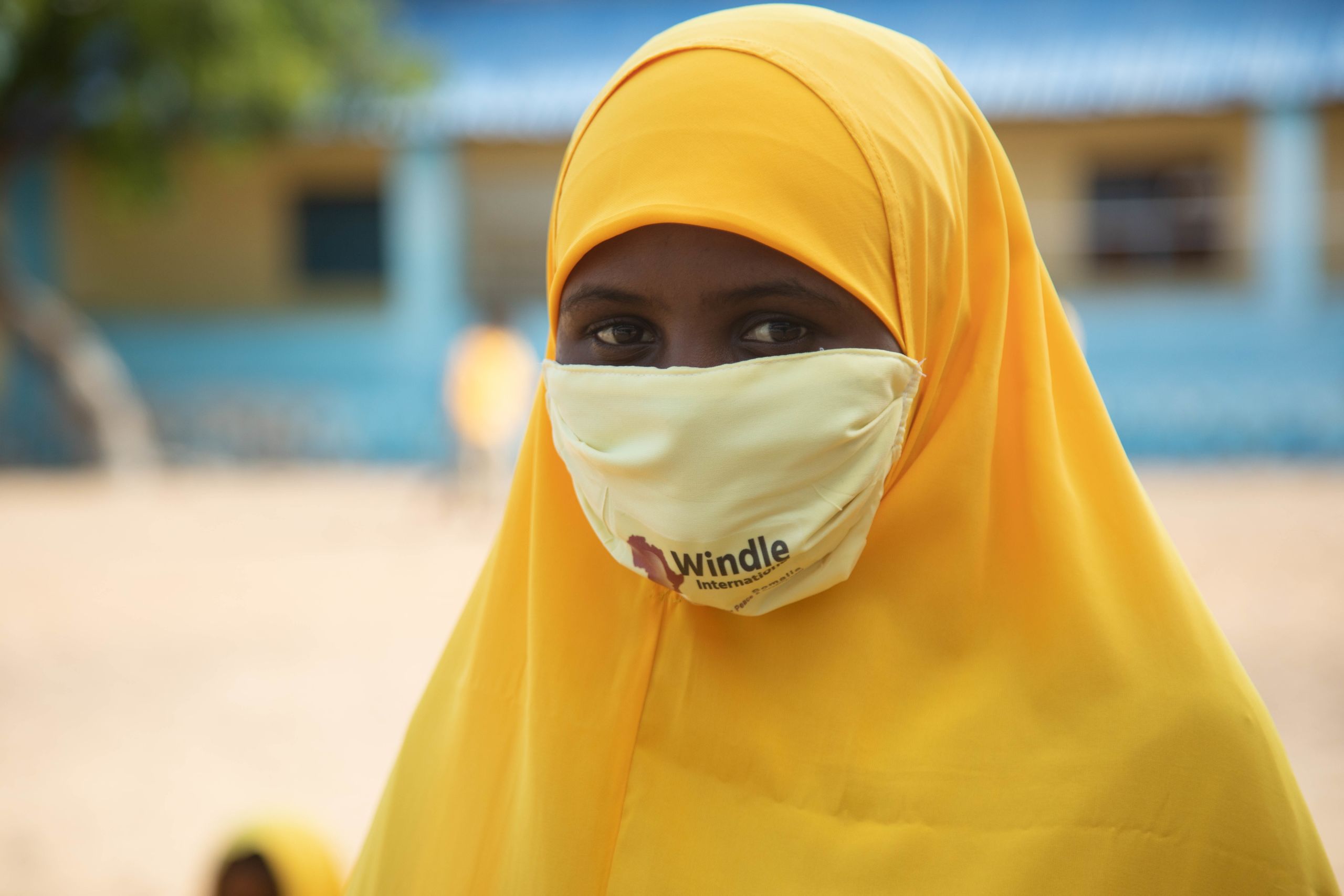 About Windle International
Every year Windle International helps over a million refugees and people affected by conflict to access quality education. We are an international non-governmental organisation (NGO) with over forty years of experience, based in and operating across eastern Africa, the UK, the US and Canada.   
We empower refugees and people affected by conflict and marginalisation to achieve their academic potential, and contribute to sustainable development, by acting as a lead provider of quality education and training. From managing primary and secondary schools to providing higher education scholarships and offering vocational training, we help people to succeed at every educational level.  
Our country office members are:  
Windle Trust International (operating in the UK, Sudan and South Sudan)  
Windle International Kenya  
Windle International Uganda  
Windle International Somalia  
Around the world, conflict is causing disruption to communities and affecting the rights of all people to get an education.   
Thanks to our unique combination of history, structure, and approach, Windle International is best-placed to create long-term solutions, to provide quality education at all levels in conflict situations, for conflict-affected and host communities, those who have been marginalized in society, and for refugees.  
Our Vision is a world where everyone has the opportunity, through education and training, to make the most of their potential and contribute to sustainable development.  
Our Mission is to challenge poverty and inequality, and bring about lasting transformation of society, by expanding access to, and improving the quality of, education and training, with an emphasis on refugees, communities affected by conflict and marginalisation.